HealthCheck for Azure provides the most comprehensive assessment for Azure migrations. Ideal for company's who already want to move to Azure and need more detailed data about their environment to make the move – analyzing each physical and virtual server, regardless of virtualization platform or location, and providing all the information you need to migration to Azure safely.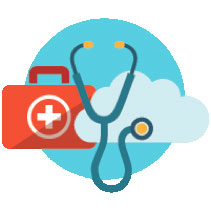 What's Included
Scan on-premises virtual machines
Identify applications to migrate
Determine Pricing and ROI
Plan Migration
Assess
Scan your physical and virtual machines, calculate cost to move servers or workloads to Azure, and provides detailed reporting about each server or application.
Plan
Prepare for migration by mapping dependencies between applications, determining the cloud readiness for each server, and choosing the right settings for a smooth migration.
Understanding your current environment is the first step in making an informed decision on costs, and planning a low risk and secure migration! Sign-up today to get a detailed assessment and migration plan!