Migrate to SharePoint Online with minimal risk and low impact to users.
Vorsite utilizes a proven process that vets SharePoint Online with your existing environment, content sources, and future needs. We work with SharePoint On-Premise, File Servers, Dropbox, SharePoint Sites, etc. The outcome is your organization's content is organized, findable, and moved to SharePoint Online.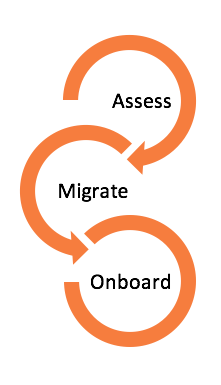 Assess
We examine all content sources, current customization's, and identify areas of risk.
We recommend a transition model for all content sources including SharePoint On-Premise customers (Hybrid or Cut-over)
We understand your current usage and future goals.
We map what you have today to what you will want for tomorrow.
Migrate
We move all required content to the new environment.
We secure and configure the environment.
On-board
We provide communications and training for end-users to deliver a smooth transition from your old environment to Office 365 SharePoint Online.
Vorsite begins by scheduling an assessment to get an understanding of your environment and determine the best migration option. Ready to learn more?